Nijmegen tegen Racisme steunt Kleurrijke Verhalen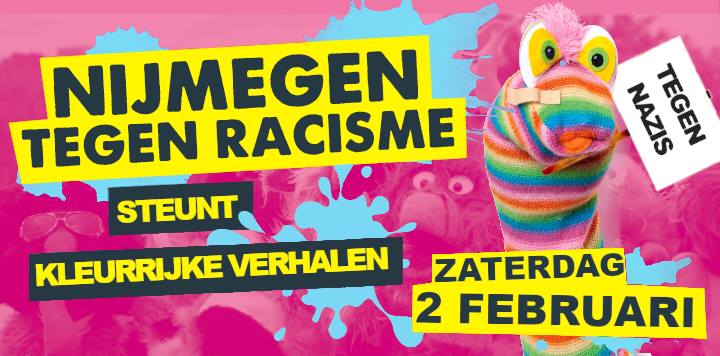 (English: scroll down)

De voorleesmiddag 'Kleurrijke verhalen' waarbij o.a. drag queens en kings verhalen voorlezen aan kinderen in de bibliotheek in Nijmegen is op 22 december afgelast na intimidatie door zes leden van de extreemrechtse groep Identitair Verzet.

Dit is zeer zorgelijk maar verrast ons niet: wanneer extreemrechts beweert dat ze staan voor 'hollandse tolerantie' of 'vrijheid van meningsuiting' blijkt dit nooit oprecht. Steeds weer in de geschiedenis richt extreemrechts zich eerst op één groep - Joden, Moslims, vluchtelingen - om uiteindelijk iedereen die afwijkt van de norm met geweld te onderdrukken en de mond te snoeren. Steeds weer vindt extreemrechts daarbij bondgenoten, want er is nog veel intolerantie in onze samenleving, zo bewijst ook de Nashville verklaring weer.

Er is maar één antwoord: een sterk gezamenlijk NEE tegen fascisme. Nijmegen tegen Racisme verklaart zich volmondig solidair met de voorleesmiddag 'Kleurrijke Verhalen' en draagt met dezelfde trots de namen Nijmegen tegen Homofobie en Nijmegen tegen Transfobie. Een aanval op één van ons is een aanval op ons allemaal en alleen door gezamenlijk op te staan tegen alle vormen van discriminatie en onderdrukking kunnen we de groei van fascistische bewegingen stoppen en werken aan een inclusieve en gelijkwaardige samenleving.

Bij de volgende voorleesmiddag op 2 februari zal Nijmegen Tegen Racisme, samen met andere initiatieven, het plein voor de bibliotheek opvrolijken met activiteiten voor jong en oud. Wij verzorgen o.a. een poppenshow, schmink, als het weer meezit stoepkrijtkunst en meer leuks. We roepen iedereen op ook te komen. Voor de gezelligheid, maar ook om een sterk signaal af te geven, en vooral zodat het voorlezen dit keer veilig door kan gaan. Zaterdag 2 februari zal er op het plein letterlijk en figuurlijk geen plaats zijn voor extreemrechts.

---------------

Nijmegen Against Racism supports Colourful Stories

On the 22nd of December, the book reading event 'Kleurrijke Verhalen' (Colourful Stories), in which marginalised people such as drag queens and drag kings read stories to children at the library of Nijmegen, was cancelled due to intimidation by six members of the right wing extremist group Generation Identity.

This is worrisome, but it doesn't surprise us: when right wing extremists claim that they support 'Dutch tolerance' and 'freedom of speech', it always turns out to be a lie. Invariably, throughout history, right wing extremism has first targeted one group - Jews, Muslims, refugees - but inevitably it would always turn to violently oppressing and silencing all people outside of the norm. Right wing extremists can easily find allies for this oppression, because our society still harbours a lot of intolerance, as evidenced by the Nashville Statement.

There can be only one answer: to form a united front against fascism. Nijmegen Against Racism declares our full solidarity with the 'Kleurrijke Verhalen' book reading event and would call ourselves Nijmegen Against Homophobia and Nijmegen Against Transphobia with equal pride. An injury to one is an injury to all, and only by standing up as one against all forms of discrimination and oppression can we stop the growth of fascist movements and work towards a society of inclusivity and equality.

During the next book reading event on the 2nd of February, Nijmegen Against Racism will join other initiatives to brighten up the square in front of the libarary with fun activities for young and old. We will organise a puppet show, face painting, and if the weather is favourable, street chalk and other fun, creative activities. We call out to everybody to join us, not just to have fun together, but to send a strong signal, and to ensure that the book reading event will not be hindered this time. On the 2nd of February, in the library and on the square, there will literaly be no place for right wing extremism.